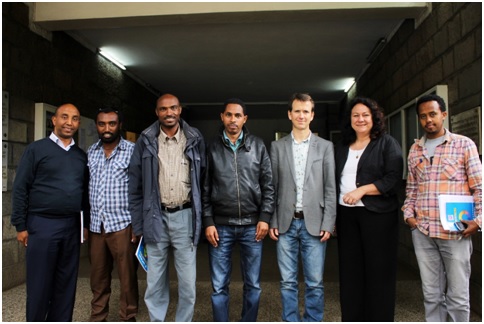 EiABC and Stellenbosch University (South Africa) are collaborating on the creation of a new partnership agreement that will facilitate improved student and staff mobility between both institutions.
Dr.ChristoffPauw, the International Academic Networks Manager for Stellenbosch University, South Africa, represented his University during the meeting with EiABC's Managing Director, Dr. Béatrice Delpouve, Scientific Director, Joachim Dieter and Deputy Managing Director Ato AtakltiAbraha among other well-informed stakeholders.
The meeting took place at EiABC on the 1st of July, 2015 with key discussions about the potential partnership being held. There was particular emphasis on areas of water infrastructure, sustainable developments research including the climate change, exchange of experience in management and capacity building such as research project writing, student career development office, their PhD Winter summer program and the strategic plan monitoring.
Stellenbosch University is well known throughout Africa and in the world for its joint degrees development and its international partnership and network. EiABC will design strategic activities to take part in such networks in our different expertise areas.
The partnership is expected to be finalized and signed during August, 2015